| | |
| --- | --- |
| Connector Standard | |
| Maximum Current rating | 13A |
| Maximum Voltage | 125V |
| Number of Poles and Wires | 2 wires |
| Outer Mold Material | 60P PVC |
| Blade Material | Nickel coated Brass |
| Flamability Rating | 94V-0 |
| Color | Any color available |
| Cable length | Any length available |
| Temperature Rating | minus 40C though plus 75C |
| Approvals | |
| Environmental Certifications | RoHS, REACH |
| Testing | Hi-Pot (Dielectric Withstanding Voltage), Polarity (pinout) and Continuity |
Plug and three outlet polarixed connector for convenient use, Each connector has a safety cover or slider covers pemanently attached
Wire Gauage SPT-2 16/2 AWG 125V 13A General color White,Brown,Gree;General length 6,9,12,15,20FT
1-15 Indoor Extension Cord



Indoor Cube Tap 2 Conductor Extension Cord




LA001C LA002B






Indoor Cube Tap 2 Conductor Extension Cord




LA001C LA002A




Indoor Cube Tap 2 Conductor Extension Cord




LA001D LA002B




Slender Plug Indoor Cube Tap 2 Conductor Extension Cord




P002P LA002B




Slender Plug Indoor Cube Tap 2 Conductor Extension Cord




P002P LA002A




Indoor Cube Tap 2 Conductor Extension Cord




LA001C LA002F




Seasonal Use Extension Cord Set Xmas Tree




LA090A




Seasonal Use Extension Cord Set




LA090B




Seasonal Use Extension Cord Set THREE OUTLET Foot switch




FS001




Seasonal Use Extension Cord Set Remote control




LA0022D RS002
Other Termination Options:
Available Cable Styles:
AWG 16/2C SPT-2
Manufacturer Base 16 AWG Indoor 2-Prong Extension Cord (3 Outlet Extension Cord) Wall Hugger in Custom Length
Indoor 2-Prong Extension Cord 3 Outlet

Indoor 2-Prong Extension Cord 3 Outlet with normal 1ft,3ft,6ft,12ft,15ft,25ft max long ,custom color power cables.

Plug type: NEMA 1-15P 2-prong polarized or non-polarized
Receptacle: 3 Outlets
Standard:NEMA standard code
Approvals:UL, cUL
Electricity:13A,125V
Number of Wires:2 wires
Cable length:1 meters, 3 meters,5 meters, custom length
Quality System:ISO9001:2008
Color:Custom color,White, black are normal
Outer Mold Material:PVC,Rubber
Plug Insert Material:PBT,ABS
Blade Material:Nickel coated Brass
Cable Specifications:16WG SPT-2
Wire Outject Material:PVC,Rubber,TPE,Textile
Environmental Certifications:RoHS, REACH, PAHS
Model Number: LA001C/LA002B, LA001C/LA002F, LA001C/LA002A, LA001/LA002B, P002P/LA002A, P002P/LA002B
Indoor 2-Prong Extension Cord, Plug Standard America NEMA 1-15P plug 2-prong polarized or non-polarized Maximum Electric Current rating 13A Maximum Voltage 125V Number of Poles and Wires 2 poles, 1 wires Grounded Type A Plug, Receptacle Standards 3-Outlet Max 13 Amp 125 Volt AC, 2 Pole 2 Wire Grounding socket.

Plug and three-outlet polarized connectorfor conveninent use, each connector has a safety cover or slider covers pemanently attached。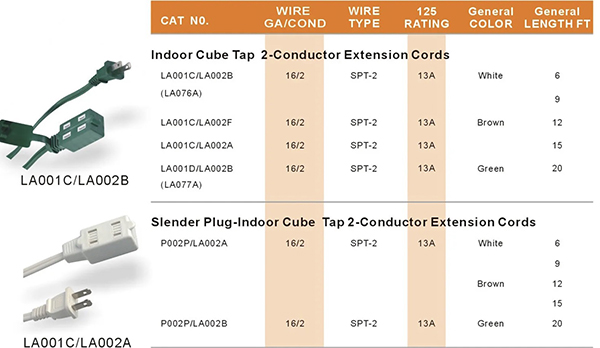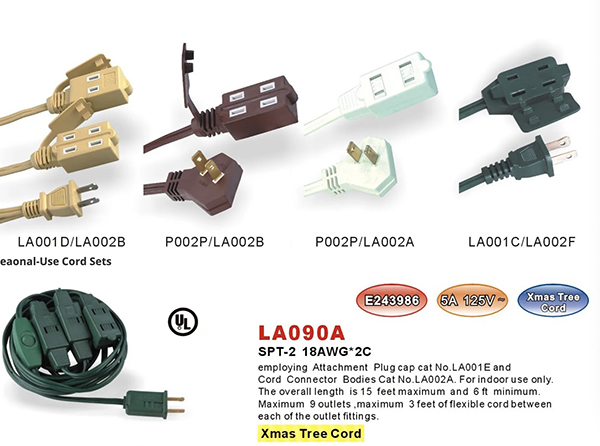 Seaonal-Use Cord Sets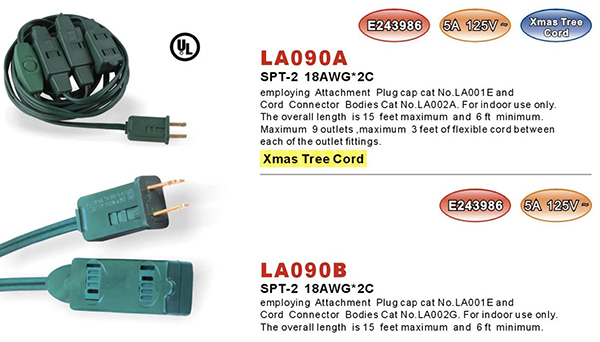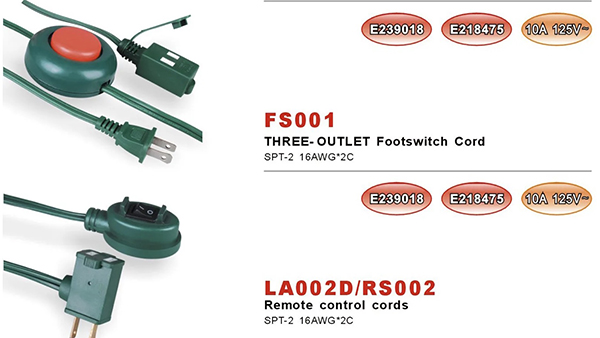 INDOOR EXTENSION CORD extends the length of a two prong ungrounded power cable; Rated for indoor use with equipment such as a lamp, mobile device charger, TV, small electronics or other device with a 2-prong power cord; Polarized extension cable can be plugged into a standard 3-prong 120V AC outlet receptacle。
16 AWG GAUGE power cable is rated for up to 13 amps / 1625 watts to support common voltage power requirements in the home or office; Extend a short lamp cord to an outlet behind furniture or connect temporary holiday lights with this outlet extender。
FLEXIBLE & FLAT EXTENSION CORD with a SPT-2 cord is safer and more reliable at longer distances than thinner 18 AWG extension cords; Travel friendly, lightweight cord is easy to carry along to an RV or hotel room with limited electrical outlets; Fully molded strain relief connectors provide long life and durability。
SAFE & RELIABLE with a NEMA 1-15P polarized power plug and 3 NEMA 1-15R polarized receptacles; Rated for 13 Amps/1625 Watts to easily extend a TV power cord from an HDTV; Removable tamper guard plugs into one side of the extension cord when not in use。
UNIVERSAL 2-PRONG COMPATIBILITY with most common household small appliances and consumer electronics with 2 prong cords; Cost-effective 2-Pack of outlet cords includes a lifetime warranty and product support。
Normal Packing
Bulk package and custom artowrks on paper cards ,printing and out cartons are normal packages for Indoor Extension Cord Triple Outlet.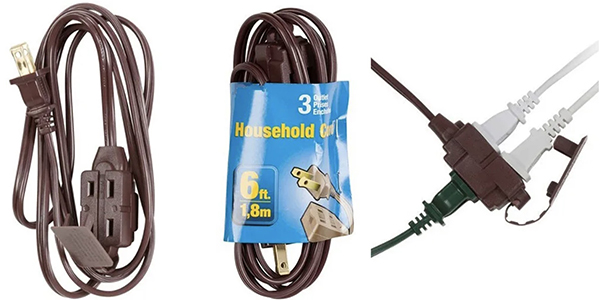 Low-Profile Power Cord Extender
The Yunhuan China famous extension cord manufacturer 3-Outlet Flat Indoor Extension Cord is the ideal solution for extending short power cords from a lamp or mobile device charger. It is universally compatible with most small appliances and electronics with a 2 prong (not grounded) power cord. This thin extension cord is easy to run under furniture.Safe and Reliable for Indoor Use,The combination of 16 AWG gauge conductors, a 13 Amp/125 Volt/1625 Watt rating, tamper guard, and connectors with molded strain relief provides a safe and reliable extension cord, 2-prong polarized polarized or non-polarized, 3-Outlet with Tamper Guard。